21:3 Simon Peter said to them, "I am going fishing."
They said to him, "We are going with you also." They went out and immediately got into the boat, and that night they caught nothing. 4 But when the morning had now come, Jesus stood on the shore; yet the disciples did not know that it was Jesus. 5 Then Jesus said to them, "Children, have you any food?"
They answered Him, "No."
6 And He said to them, "Cast the net on the right side of the boat, and you will find some." So they cast, and now they were not able to draw it in because of the multitude of fish.
Have you ever noticed that we often hesitate and mull over and over before doing the right thing but when we are making a bad choice we just jump right in? Thankfully we don't have a Father who leaves us to our own devices. In countless ways He comes to us, through friends, through experiences, through the still small voice of His Spirit, and even through fishing.
3 years before this Peter had fished all night and caught nothing. As far as we know that day Jesus met him on the beach and spoke to the crowd from his boat was the last time Peter went fishing until now. The results are eerily similar. To fish all night with drag nets and catch nothing is quite a feat. Or is it? Was it just coincidence both times?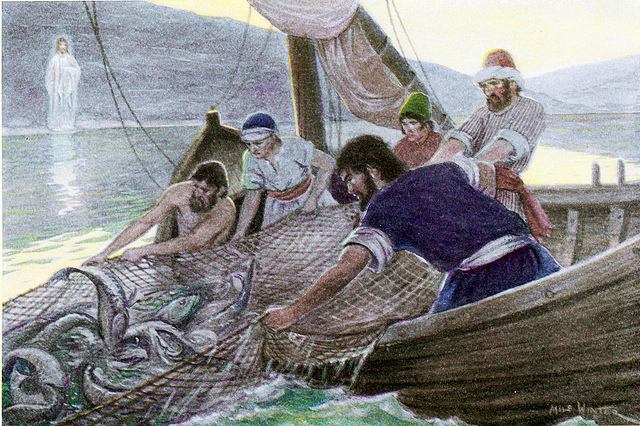 Apparently the similarities were lost on them because when this figure calls to them from the beach they don't recognize Him. He tells them to cast on the right side. It's an interesting instruction. Why the right side? He could have chosen either side. He could have said "the other side" but He specifically says the right side. Again coincidence? Maybe. Maybe not. The right side is mentioned over and over in the Scriptures. It represents strength and power. It represents truth and righteousness. It is the side of God's throne where Jesus is seated. In English the opposite of right can either be left or wrong depending on how right is meant. In this case I believe they understood right as opposite of left but He meant right as the opposite of wrong.
Why do I believe that? Because these men are not fishermen anymore. They are fishers of men. Jesus changed their life purpose 3 years prior. He will not bless them in fishing any more. When we go back to our old life and step out of His purpose for our lives we are free to do so but it is without His blessing.
"But He did bless them!" you say. They caught so many fish! Yes but only after His intervention and only for the purpose of revealing Himself to them yet again. They have gone back to their old life so what does Jesus do? He reenacts the very scene when they were first called to follow Him. They have turned the ship of their lives in the wrong direction and Jesus interrupts their futile fruitless pursuit and says "try the right side".
Neither our best efforts (fishing all night) nor our worst failures (denying Him) are what the Story is about. The Story is about His pursuit of us through it all.
His love is relentless and tomorrow we'll see what happens next...